Supporting Carers into Employment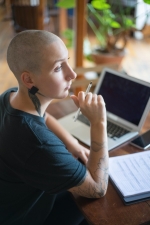 A working carer is someone who has caring responsibilities, but is also in paid employment. Evidence suggests that the numbers of working carers are continuing to increase, with 1 in 7 carers a working carer (Carers UK). If you're looking to go into employment, or need help with your current employment status, then we can help.
Start by Volunteering
Volunteering is a great way to strat developing your skills and provide valuable experience to your professional journey. It is also a great for anyone looking for a challenge or who is wanting some structure to their life. Volunteers can commit to the work when it suits them, which is perfect for carers and their caring responsibilities.
Finding Paid Work
Finding paid work can be difficult but Carers Trust have an in depth page about carers in employment. They talk about interviews, how to talk to the person you care for about employment and applying for a job.
Information for employers
Recognising that there are carers in your workforce, and supporting them to manage their caring responsibilities and work can bring many benefits to your workplace.