More about Trafford Carers Centre and carer support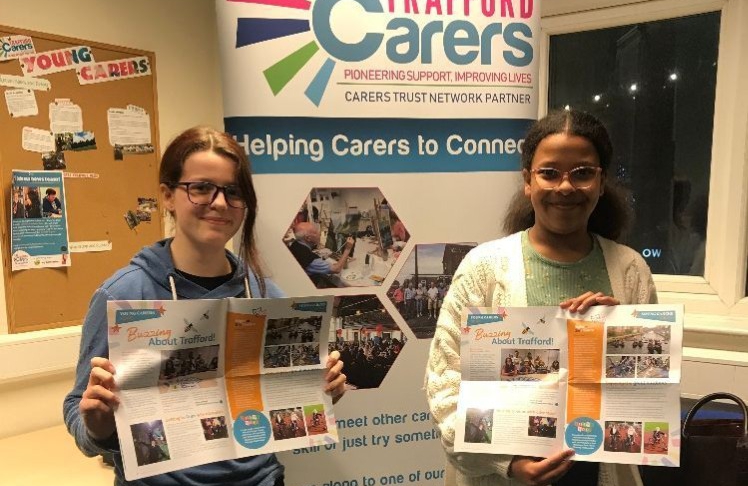 Trafford Carers Centre have been offering support to carers since 1996
Trafford Carers Centre is an independent registered Charity (1102075) that has been supporting unpaid carers looking after someone who lives in the Trafford area since 1996.
At Trafford Carers Centre we support young and adult carers to recognise their own needs, have their voices heard, help with their physical and mental wellbeing and ensure they are fully understood, valued and supported in their caring role.
We support carers by phone, face to face meetings (both in person or via Zoom), support groups, activities and events. Our team also provide regular sessions at venues across Trafford providing emotional and practical support including health checks, benefit advice, advocacy, peer support and counselling.
Trafford Carers Centre is managed by a Board of Trustees who oversee strategic direction and we are proud to be a Network Partner of Carers Trust and member of Carers UK.
Read more information about our services here.
Our Vision
To promote a society in which carers are fully understood, valued and supported, thus enabled to perform their critical, unique role as effectively as possible.
Our Values
Responsive - we respond, we stand out and act
Influence – we aim to influence professionals and members of the community of the value carers and caring brings
Supportive – we strive to make sure carers are supported throughout their journey and we are supportive to our own staff and volunteers
Empathy - We understand the caring journey, we respect the contribution that 7 million people each year make and we understand the impact caring can have
Our Goals
Carers know about the Centre, find it accessible and perceive it as a service for them
Carers are educated about services, their rights and other information they need to carry out their chosen caring role effectively
Carers are able to recognise their own needs as important and are supported to take action to improve their lives
Carers will feel less stressed and isolated and feel more healthy and confident and thus better able to carry out the role they choose
Carers will have a stronger voice in service development and the Centre will help to ensure that services better fit carers' needs
The Carers Centre team are supported to develop and are committed to continual improvement so that carers stay confident in the quality of the Centre's services
The Carers Centre will endeavour to grow and develop in accordance with carers needs and will use its resources effectively and efficiently